| | | | | | | | |
| --- | --- | --- | --- | --- | --- | --- | --- |
| | | | | | | | |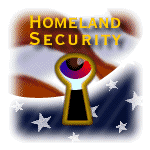 This section was last updated Wednesday, 25-May-2005 06:19:30 EDT.


Enter the world of George Orwell's 1984.

Read the CFR Report on National Homeland Security, prepared four years ago - in "anticipation" of a terrorism attack on America. Also other reports and articles.

Securing the homeland? No!

The Department of Homeland Security in reality is designed to secure total control over the American people who live in this NewSpeak Homeland: Finger-printing, micro-chipping, face scanning, iris reading, DNA gathering, cameras everywhere watching our every move, monitoring phone calls, e-mails and faxes, redefining the very word "terrorism" so that petty theft or assault in the first degree will be termed terroristic acts ... and finally, a spy system that has strangers, friends, and even family spying and reporting on one another. - Jackie
CFR Phase III Report on National Homeland Security
Excerpts from and comments in case you aren't planning to read the full report:
"Four years ago the Council on Foreign Relations began working on the restructuring of America's Constitutional framework of government, without regard for Constitutional parameters and ignoring the required process for amending the Constitution as specified in Article V."
The Phase III Report of the U.S. Commission on National Security / 21st Century
FINAL DRAFT REPORT - EMBARGOED UNTIL JAN. 31, 2001 -- Road Map for National Security: Imperative for Change -January 31, 2001 This report will be posted in sections for easier reading and printing. The Commission started four years ago setting up the frame work and legislation for the Homeland Security Act, which has been passed to 'protect us from the terrorists'. The fox guarding the hen house in its purest form. - Jackie Section 1: List of Commissioners; Table of Contents; Foreword by Gary Heart and Warren Rudman; and Preface by Charles G. Boyd, General, USAF (Ret.) Executive Director
Bush Signs Homeland Security Bill
ABC News.Com 11-25-02: "The new Cabinet department — an idea Bush initially opposed — will swallow 22 existing agencies with combined budgets of about $40 billion and employ 170,000 workers, the most sweeping federal reorganization since the Defense Department's birth in 1947."
The Homeland Security Act of 2002

The full text of the bill. (In pdf format.)
Homeland Security Flow Chart
From our Safety...at what cost? section
Courtesy of the New York Times, view the game plan for government reorganization under the newly-created Office of Homeland Security.
Kissinger: The Secret Side of our Secretary of State
By Gary Allen, 1976
The author of None Dare Call It Conspiracy. He has earned his wings in heaven. This book goes way beyond the man, Kissinger, and takes us into the wheelings and dealings of the son-of-a-rabbi/Communist/KGB/Rockefeller/CFR agent Kissinger. READ IT! - Jackie
Court Denies Office of Homeland Security Motion
A federal court has ruled against the Office of Homeland Security in a "case that is a critical step about 'openness' in government." At issue was whether the Office of Homeland Security had to supply information that was requested, under the Freedom of Information Act. The Electronic Privacy Information Center had requested documents regarding plans for standardized drivers licenses, as well as other measures to be used to identify and profile people.
Tom Ridge Confesses Terror Alerts Were Bogus
Former Director of Homeland Security Tom Ridge said that Bush Regime officials forced him to elevate the "threat level" on what he calls "flimsy evidence," reports USA Today.