Iraq war vets struggle to adjust to lost limbs, flashbacks
By Dalton Narine for The Trinidad Express
http://www.trinidadexpress.com/index.pl/article_news?id=123231522
Trinidadian DALTON NARINE, a war sufferer himself, wrote the following harrowing feature that won the 2005 Sunshine State (Florida) Award for Feature Writing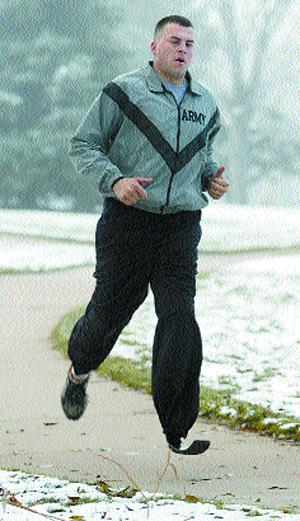 < Sgt. Brian Wilhelm takes a jog. There was a chance doctors could save his leg. However, he chose amputation over the prospect of repeated surgeries because "I wanted to get on with my life."

"When I saw the stumps, I thought, `Damn, both of them?' Then I looked at my leg and I was trying to figure how to put a tourniquet on it because I didn't have any hands."
The rocket-propelled grenade that ripped off James Eddie Wright's hands and tore into his left leg ended the war for him and changed his life forever.
In a way, Wright, 29, personifies the new veteran coming home from Iraq. Many hundreds are amputees and, according to The New England Journal of Medicine, one in six suffers from a stress-related disorder. More often than not, today's veteran has that thousand-yard stare that soldiers have been carrying home for years-a mask for the gnawing confusion and anguish that can blow apart a smooth return to civilian life.
Unlike the young draftees of earlier wars, many of these men and women are older, with families. For them, this morphing from a fighting machine ducking bullets into a mommy or daddy packing school lunches presents a special challenge. This time the government tapped the National Guard and the Reserve to augment regular forces. Some returnees-proportionately many more than in Vietnam-have left limbs and slices of sanity on an urban battlefield as strange as the Iraq war itself. Improved body armour kept many troops out of body bags in Iraq after they were ravaged by roadside bombs and shoulder-mounted rocket launchers.
A varied lot, these returnees. Among them: A freshly retired soldier struggling with anger and guilt as she desperately tries to fit back into the lives of her husband and three kids. An ex-soldier who shuns humans in favour of his dogs. A star basketball player who lost her shooting hand. A lifer from North Miami who can't spit out the smell of death. A guy with a John Wayne fantasy. A seven-year Marine fighting to keep his shattered arm.

JOHN DALE
No prosthesis for me, says John Dale, 29, of Coconut Creek, Florida. So far, his left arm is still his. He's had eight surgeries to save it. The next one's due in three months.
"It felt like someone hit me with a baseball bat," he recalls. It was April 4, 2003. His unit, the 2nd Tank Battalion, assigned to the 1st Marine Division, was taking heavy fire on the way to Baghdad on the first day of action during the invasion.
The battleground was surreal, like an arthouse war flick: oil burning in roadside ditches, smoke blotting out the sun and screening the enemy, the Marines moving forward in their Humvees.
The Iraqis would pop up and shoot. Dale would machine-gun their hideout from his seagull view in the turret. Such a sweet target. An AK-47 round shattered the humerus, the long bone of the upper arm.
His arm was left dangling, blood seeping through his chemical suit and flak jacket and racing down to his fingertips, forming large claret pools on the Humvee floor. A corpsman lifted him into an ambulance. But he had to give up his space to a Marine who had been shot in the face.
"I had to crouch behind a tank until a Humvee drove by. I hitched a ride with them," Dale says.
The firefight fanned out as he sank helplessly in the back of the vehicle. He didn't panic and he didn't pray. Everything was gonna be all right, he thought, but it would be an hour and a half until a medevac chopper arrived. Dale counted three friends among the severely wounded. Nearby, a corpsman was pushing to save a tank commander. But the officer's body was already adapting to meet death.
Dale's arm is now held together by a metal plate that travels from shoulder to elbow and is attached to the bone by 13 metal screws.
He sleeps as if time is rationed. Nightmares mess with his mind. The doctors call it post-combat trauma. He and two other Iraq war veterans meet weekly at Dale's home with Patrick Murphy, a team leader at the Vet Center, a government counseling service.
Three weeks in combat changed him forever, the sergeant says. He no longer puts things off. Like furthering his education. The South Broward High grad says he's going back to school. He likes the medical field.

VALENCIA KNOX-DAVIS
Valencia Knox-Davis' voice is soft but her delivery is halting. Her eyes wander, never stopping on other eyes.
Knox-Davis, 46, had an eight-month stint in Afghanistan. Then, after five months at home, she was shipped out to Iraq. She came home in March to her husband, Jack Davis, 49, and their three kids in Richmond Heights, a Miami-Dade neighborhood.
A Florida State University graduate, she's a social worker at Jackson Memorial Hospital in Miami. She joined the Army Reserve in 1983 as an administrative specialist and helped set up and run postal services.
In 2002, when she was in Bagram, Afghanistan, son Bryan, then 14, fired off questions: Why are you there? What's the war about? And from Faith, 11: When are you coming home? James, 4, didn't grasp what was going on. Her husband, who works for U.S. Precast, a construction company, tried his best to pick up the slack. It was hard.
He's struck by the life-after-Iraq personality of a wife who, in off moments, still hears the ever-closer thumps of distant mortar rounds. She's got a precise way of doing things now, constantly checking the time, and clinging to the family. Other times, she doesn't want them around. She explains it in clinical terms: the guilt of being gone so long; missing out on so much of their lives; not being able to replace the time. "After I came home from Iraq, I used to internalize my anger. And I had no patience, no tolerance. I was curt with the kids and I was distant."
Knox-Davis, who retired as a sergeant first class in September, is being treated for post-traumatic stress at the Veterans Administration in Miami. "They want you to talk, but it's hard to open up because I mistrust people. The administration tells you the war is over and when you get there it's not. Being over there was just so stressful. And yet my mind still wanders back to Iraq and I worry about the troops. I hope these issues aren't permanent."

MARCO HERNANDEZ
On October 5, Marco Hernandez of Homestead, Florida, mourned his oldest, Nellie Bablushuka. She was 15, a toy poodle. Now he dotes on his two younger dogs, Charlie, a Lhasa apso, and Shortie Hernandez, a Shih Tzu. "He lives for them," says Vet Center team leader Patrick Murphy, who counsels Hernandez for post-combat stress. "They give him a sense of being able to count on something." They also are helping him glue himself back together.
Before his deployment to the Middle East, Hernandez, 37, a Guatemala native, lived a far different life. He had an associate's degree in business administration, a wife and big plans to go up the ladder in the US Army.
Today he has no job, no wife, no plans, no social life. He suffers from depression, mood swings, panic attacks, nightmares, mind-blowing headaches and a welter of pains he attributes to a truck accident in Kuwait.
In January 2003, Hernandez, a specialist 4th class with the 25th Aviation Regiment, was assigned to Camp Udairi, a barren desert compound in Kuwait. He was there to repair radar on helicopters. But there was little work, "no mail, no news, either," he says. They were camped behind God's back.
Eventually, he went into Baghdad, riding through enemy wreckage with limbs and flesh "like shredded paper" everywhere. The detritus of the fall of Baghdad included shards of his mind.
His tour over, Hernandez eagerly flew home to his wife. She was waiting for him-with divorce papers.
He can't even get a job - overqualified, they say. There are nights when he dreams he picks up a rifle during a chat with someone "and when I'm about to pull the trigger I wake up."
His "children" are his salvation. They "are helping me get out of this feeling of emptiness. I am forcing myself to walk with them. My feet, legs, hips, back and head hurt all the time, plus the fact that I do not want to see anybody or do anything, but because of my children I am pushing myself to go back to an almost normal life.
"I walked them last night. It took about 95 minutes and I was tired and in pain. But Shortie and Charlie were running and jumping. That tells me that they are happy and I feel good about myself."

LUIS ROBLES
Luis Robles, 27, of Pembroke Pines, Fla., stashed in his helmet a line from the Bible: No weapon that is formed against thee he wrote "me" shall prosper (Isaiah 54:17).
"You have your battle buddies, but you also need spiritual upliftment," Robles says from his desk as a supply sergeant at the National Guard armory in downtown Miami. "Every time I went into battle, I became spiritually inspired."
If mom Irene Bustamante had known that, she might not have fingered the worry beads when he called her home in Tijuana, Mexico, around Mother's Day 2003 to say he was going into combat. Born in San Diego and reared in Tijuana, Robles had enlisted in the Army at 19 despite her objections. Now she's telling him, as he's about to leave for Iraq with the 53rd Infantry Brigade: "I can't believe you're fighting a war that's not yours."
"I'm a soldier," he reminded her.
On November 23, Robles was in charge of perimeter security at an observation post in Ramadi when he and a buddy thought they heard a car with a bad muffler. It was incoming mortars. Shrapnel fractured his skull.
When he came to, he worried that someone would call his mom and tell her. Someone had. His speech was so blurred that he had to practice saying, "It's just a scratch, Mom."
He was at Walter Reed Medical Center for 2-1/2 months.
For a while, Robles had a short fuse. He still has migraines and poor concentration. He continues to see a neurologist and the combat stress is in remission. Just don't come by with any firecrackers-or a bad muffler.
When he's off duty, Robles takes business administration classes at Broward Community College.
That quotation from Isaiah has worked. He and God are real tight now.

DANIELLE GREEN
In the desert, the heat's overpowering-especially if you pull security duty on the roof of a police station in Baghdad.
Danielle Green, 27, of Chicago, remembers that heat as she lies in a ward at Walter Reed. That sun. That rocket. That burning sensation.
It's May 25, 2004, five months after the 571st Military Police Co. arrived at the Al-Sadoon police station to train Iraqi volunteers. Green, a specialist 4th class, and a buddy are stuck with rooftop guard duty in temperatures well above 100 degrees. It's the buddy's turn to find a spot of shade. Green's alone.
Maybe it was a yen for adventure that made her quit her teaching job and join the Army in January 2003. She had been an ace basketball player at Notre Dame, where she earned a psychology degree.
Now she's on the roof, surrounded by sandbags, unaware that her post has become a target. The first rocket-propelled grenade hits a nearby building. She grabs her rifle, but her body goes numb. The second rocket has hit home. "I thought I was going to die," she says. "I could see that my left thigh was busted open."
Green speed-dials God: "If you can get me out of this situation, I'll change my ways."
Within seconds, Green, a lefty, realizes her left hand is missing. The limb is found later -with her wedding band still shining-under seven inches of sand.
The next day, she learns the leg can be saved, and calls her husband, Willie Byrd, 59, a retired teacher in Chicago. "She told me, `I need you to be strong. Don't cry,' " he recalls. "So I knew something was wrong."
It's still wrong.
"There are more questions than answers" about the future, she says bitterly. "It's tough on me mentally, so I'm still trying to figure what's important. Maybe I'll attend grad school and return to education. Maybe when kids tell me they can't do it, I'd pull off my prosthetic arm and say, `If I can do it, you can do it.' "
Last June, Green and 21 other Walter Reed amputees were invited to the Disabled Sports USA clinic in Long Beach, Calif., where she impressed Bryan Hoddle, head track and field coach of the 2004 U.S. Paralympian team.
"Danielle definitely has that drive and potential to be a great Paralympian," Hoddle says.
"But I have to figure out how to juggle school, train and also make money," she says brightly. "Maybe, at the 2008 Beijing Paralympics, the headline could read `Notre Dame student-athlete, American hero, makes Paralympian team.'

BRIAN WILHELM
The infantry is not a place for the ordinary Joe. It is where heroes go beyond their pain, where character is ultimately defined. Brian Wilhelm, 22, of Manchester, Iowa, found himself in that zone.
It was 2:30 in the afternoon on Oct. 7, 2003. When he awoke that morning "stuff didn't seem right," he says now. The kind of stuff that causes nerves to wobble. You get a vibe like that, you'd better keep it to yourself. The Iraqis were playing it close to the chest, too. They were about to ambush his mechanized unit, a three-vehicle convoy from the 4th Infantry Division. His unit was en route to RPG Alley (a rocket-propelled grenade hellhole) on a beat-up road in Balad. A patrol was depending on them for security and replenishments.
"They opened up with a volley of RPGs. I got hit in my left calf. There was a big hole in my leg, but I wasn't feeling pain."
Adrenaline, the Army sergeant says, sparked his next move. "I got out of the truck and started firing. I'm in the middle of the road and my gunner is on the truck backing me up on the 50-cal machine gun."
Wilhelm is in no man's land for 20 minutes, blood draining the leg of color. He's firing clip after clip of ammo. Because there was no initial pain, "I thought I was dead, so I figured I better have some fun to keep my buddies alive," he says. Eventually, the gunner got him back on the truck and applied a tourniquet.
Doctors at Walter Reed tried to save the leg. He waved them away. "It was either that or a couple of years of surgery," he says. "I wanted to get on with my life."
A prosthesis got him walking two weeks after the amputation.
Wilhelm now chauffeurs a general and helps with reenlistments at Fort Carson, Colo.
After work, he goes home to his wife, Jennifer, an Army MP, and their 14-month-old daughter, Alison, in Fountain, Colo.
Does the war intrude? Does he have psychological scars?
"None," he shoots back. "Losing a leg is no big deal. People who feel sorry for themselves need to grow up."
He's counting on his new family, his own family back in Iowa, and the counsel of Vietnam veterans to forestall post-combat problems. He has been allowed to re-enlist.

JAMES EDDIE WRIGHT
It happened about midday on April 7 in Fallujah, where hatred for Americans is stacked up like the rows of buildings that crowd the streets and alleys. Enemy mortar and rocket teams blended into the population, and that day the 1st Recon Battalion was trying to ferret them out.
Marine Cpl. James Eddie Wright, 29, of Seattle, rode point in a Humvee with four buddies. When he saw skittish motorists ahead of them spinning around and going the other way, he smelled an ambush. Gunfire raked the convoy, followed by mortars and rockets.
It felt like a knockout punch screaming off his jaw when a rocket-propelled grenade slammed into Wright's M-16 rifle. It blew off his helmet and goggles. His arms were cut down to smoldering stumps and his left foot had a gaping wound. "When I saw the stumps, I thought, `Damn, both of them?' I looked at my leg and wondered how I could apply a tourniquet because now I don't have any hands."
He almost died three times on the trip back home. They gave him 39 units of blood and doctors saved the leg. He's still in rehab at Walter Reed. "The experience has taught me to be thankful for what I have," he says. "My life, my family, my fiancee and support from patriotic Americans."
He plans to resume his education, but wedding bells are first. He and Donette Mathison, an Air Force staff sergeant, are to marry in May.

HUBERT LOUIZAIRE
Hubert Louizaire of North Miami tasted the exhilaration of victory on his first tour in Iraq in 1991. Now, after another war, the lingering smell of death is stronger - "like meat burning on a barbecue with no kind of spice at all."
Born in Haiti 48 years ago, he relocated to Brooklyn, N.Y., at age 15. He enlisted in the Army in 1980 and stayed on active duty for 12 years, then became a reservist. He joined the Veterans Administration police in Miami and was called back to Iraq in March 2003 with the Fort Lauderdale-based 724th MP Battalion.
Back in Desert Storm, he was a gun chief with the 31st Field Artillery, blowing up Iraqi tanks, 55 in all, burning many of the crewmen to death.
"He loves Army life," says his wife, Eveline, 47, a VA file clerk. Army life dragged him away from her and their two daughters twice, heaping an extra load on her.
Last year when she had to get the roof fixed and the house painted, "they contractors took advantage of me," Eveline says. "And they took their sweet time."
Meanwhile, Louizaire was supervising 7,000 POWs, including 300 generals, at a camp in Um Quasar. "The prisoners were treated so well, they ate better than us," he says. "We eventually released the generals, but they came back to thank us for the way we handled the whole prison population."
But the camp had a problem with escape artists and criminals. The battalion would shuttle the criminals to the overcrowded Abu Ghraib prison, where many were killed during Iraqi mortar attacks on the prison. He learned of the abuse there later. "Maybe that's why prisoners would beg us to take them back to Um Quasar."
In all of this, he's never taken a bullet or been bogged down by bad memories.
"If you think about what you did, it'll affect you," he says. "But if you don't think, it won't be on your mind."

ROB SARRA
Rob Sarra grew up on war movies in Chicago. He dropped out of college after two years and followed a fantasy to Iraq in March 2003. His armored unit, Bravo Company, 1st Battalion, 4th Marines, had its first contact with the enemy in An Nasiriyah, running and gunning through the city in 15 minutes. It was exciting. Running the gauntlet, as the Marines call it, each Amtrac sheltering 18 Marines and gobbling up killing fields, town after town, four in a row.
Lethal air strikes, the gift of artillery, the choppers darting in and out of view, all the true sounds of combat that Hollywood has yet to perfect. "He," Marine Sgt. Rob Sarra, "not" John Wayne, was the hero now.
Things soured when 32-year-old Sarra and his buddies, on patrol in Ash Shatra, shot at civilians.
"I fired on a woman coming out of a building," he says. "She kept coming. She wouldn't stop."
The woman in black, her face covered, slumped to the ground. Sarra walked up to her. She was clutching a white flag. That moment, that death, upended Sarra's life, and turned him against the war.
He was discharged in April 2004 and joined the Philadelphia-based Iraq Veterans Against the War. Lifers in the military likely would say that Sarra has kidnapped and twisted patriotism. Sarra wouldn't care.
These days you can catch his drift on college campuses like Ithaca, Notre Dame, the University of Illinois, anywhere the public, students mostly, is willing to listen to his revelations about, in his words, "the occupation."
Sarra and all Iraq war veterans are defined by the unique theater in which they served - as are all veterans of all U.S. wars.
However, they are all connected by the personal war that follows all wars.
Note: Latest U.S. casualties in Iraq-more than 18,000 killed or wounded. Dalton Narine is a decorated Vietnam veteran who suffers with Post-Traumatic Stress Disorder (PTSD). © The Miami Herald.


So... You Want to Go to War? - Introduction
Introduction by Jackie Patru
"Are you sure? You're willing to risk your life for. . . what? For whom? Your country needs you? To do what? To massacre innocent, defenseless people? Why? Is your country at risk? Or do you have your country confused with the corporation in Washington, D.C... the U.S. Government, Inc.? Are you willing to forfeit your life and possibly your soul in blind obedience to the government? Are you willing to become a human guinea pig to the Military/ Industrial/ Pharmaceutical complex? You will ... if you go to war.
Watch out for this school note: Grades 9, 10, 11, 12
It is a wide and deep river of paper, and in the currents it would be easy to miss the school notification required under Sec. 9528 of the No Child Left Behind Act of 2001. Think of this notification as the dangerous undertow in the river of paper from your local schools. It is the one required under the "Armed Forces Recruiter Access to Students" section of the "No Child" law.


We have assembled the items below into two categories. Those that are now a part of human history, and those incidents that fathers, mothers, sons, daughers, brothers, and sisters are currently living. Our purpose is to compare the abuses of our men and women in uniform from the past, to the present day reality that nothing has changed.
Think long and hard about whether to send your children off to war. For whom, and what purpose, will you allow your children to spill their blood?
THIS IS WAR!
An unblinking look — in words and images — at the reality of warefare. From an excellent website called the Memory Hole.

U.S. Admits It Tested Nerve Gas on It's Sailors
The Guardian — "The US has admitted that it deliberately sprayed nerve gas on its sailors in the 1960s as part of a series of tests... The Pentagon started releasing the previously classified information... after being pushed by a Democrat congressman from California, Mike Thompson. [who said] "We now know that our military personnel were exposed to Sarin gas and VX nerve agent, which are both lethal, and other agents that are known carcinogens."

Hundreds Died of Cancer After DU Bombing
ABC News — "Cases of cancer have been reported among Italian, Belgian, French, Dutch, Spanish and Portuguese soldiers who served a peacekeepers in Bosnia and Kosovo... Some of the victims had worn flak jackets made from shells with depleted uranium (DU), he told Reuters in an interview."

USS Liberty - Did Israel Commit One War Crime to Hide Another?
By James M. Ennes, Jr. - Survivor: "When the Liberty was attacked, Captain Joseph Tully in the aircraft carrier USS Saratoga received the ship's call for help and immediately sent jet aircraft to her assistance. Tully's jets were recalled almost immediately by orders from Washington. As a result, American jet fighter support was withheld for more than 90 minutes. By then the damage was done and 34 men were dead or dying."

Refusal To Investigate Israel's 1967 Attack on USS Liberty
Wisconsin state legislator, Marlin Schneider, was very naive when he agreed to sponsor a resolution calling for an investigation into the murder of U.S. sailors on orders of the Israeli government. He was sacked as assistant Democratic leader, removed from a leadership position and warned to: "beware of massive political contributions against me and even potential assassination."

Female Sergeant Dead From Anthrax Shot
Retired Air Force LTC Redmond Handy, who resigned his officer's commission rather than participate in what he calls a "terrible crime against our men and women in uniform," warned "there are others currently at risk because of this flawed vaccine. I'm afraid SGT Larson's death won't be the last," he told MilitaryCorruption.com. "When will the Pentagon end this madness?"

Korean "Police Action" - American Soldiers Betrayed
From our How Wars Are Made section
"The enemy then contacted and relayed these battle plans to their communist forces in the field. The enemy knew when to move from an area and when to attack our smaller fighting forces. They knew beforehand when we were coming and how many of us there were. They knew everything about us all the time – 24 hours a day!!!"

Pentagon Eyes Mass Graves (for U.S. Soldiers)
From our Iraq section.
Denver Post: "The bodies of U.S. soldiers killed by chemical or biological weapons in Iraq or future wars may be bulldozed into mass graves and burned to save the lives of surviving troops, under an option being considered by the Pentagon."

Talk of War No Deterrent for Some Looking to Military
NY Times — "Mr. Moran's former school friends also had something else to say in light of the military buildup in the Middle East: They said, "'Oh yeah, you're going to go die over there,' " he recalled. "But I was going to die over here, too, So it doesn't really matter. As a teenager, it's more of a risk to be in the streets."

"U.S. Undergoes Rapid Military Expansion" - Who Will Protect America?
USA Today — "The United States is rapidly increasing its military ties with nations large and small, thanks to the war on terrorism. . . "Overall, the American military global presence is more pervasive today than at any point in American history,": John Pike, military analyst in Washington. . . A recent Pentagon paper identifies vital American security interests in almost every part of the globe, with the notable exception of Africa.

Soldier Sues Military Over Extended Service Order
"This lawsuit seeks to stop the forced retention of men and women who have fulfilled their service obligations. When their period of enlistment ends, they should be entitled to return to their families", said attorney Michael Sorgen. The "stop loss'' order means soldiers who otherwise could leave when their commitments expire will be compelled to remain until the end of a year-long overseas deployment and up to another 90 days after returning to their home base.

Maimed in Iraq, then mistreated, neglected, and hidden in America
Go ahead, guys and gals, sign up! Join the U.S. Army, Navy, Marines, or Air Force. Join the National Guard so you can be sent to Europe to disarm the Bosnians. Become an Iraqi 'Liberator', so you can kill and die for the New World Order.

Unfit Soldiers Returned to War
Guardian, UK
"A stretched Pentagon is sending unfit soldiers back to Iraq long before they are ready to serve again. Soldiers went to war with chronic illnesses such as coronary disease, mental illness, arthritis, diabetes and the nervous condition, Tourette's syndrome, or after undergoing recent surgery."

Soldier Suicides in Iraq Increase
Associated Press
"A U.S. commander warned troops Thursday to watch their friends because suicides are on the rise."

Army to Recall Former Military Members
From our Iraq section
"The Army is preparing to notify about 5,600 retired and discharged soldiers who are not members of the National Guard or Reserve that they will be involuntarily recalled to active duty for possible service in Iraq or Afghanistan...."

US Army forces 50,000 soldiers into extended duty
The U.S. Army has forced about 50,000 soldiers to continue serving after their voluntary stints ended under a policy called "stop-loss," but while some dispute its fairness, court challenges have fallen flat. ...With yearlong tours in Iraq and Afghanistan, some soldiers can be forced to stay in the Army an extra 18 months.

Thousands of US troops evacuated from Iraq for unexplained medical reasons
From our Iraq section
September 2003
"At no point in the last six months have the American people been told that for every soldier who has been killed in Iraq, at least another 15 have fallen so ill that they had to be flown back to the United States."

Iraq War Vets Struggle to Adjust to Lost Limbs, Flashbacks
"Unlike the young draftees of earlier wars, many of these men and women are older, with families. For them, this morphing from a fighting machine ducking bullets into a mommy or daddy packing school lunches presents a special challenge. This time the government tapped the National Guard and the Reserve to augment regular forces. Some returnees-proportionately many more than in Vietnam-have left limbs and slices of sanity on an urban battlefield as strange as the Iraq war itself."

Depleted Uranium: Dirty Bombs, Dirty Missiles, Dirty Bullets
"...eight out of 20 men who served in one unit in 2003 U.S. in Iraq now have malignancies. ... 40% of the soldiers in that unit have developed malignancies in just 16 months. ...it targets the DNA. Marion Fulk, a nuclear physical chemist retired from the Livermore Nuclear Weapons Lab and formerly involved with the Manhattan Project, interprets the new and rapid malignancies in soldiers from the 2003 war as 'spectacular ... and a matter of concern'."

Google Video: Veteran Who Served in Iraq Tells of U.S. Atrocities
Jesse McBeth is with a group called Iraq Vets Against the War. In this video, he tells of the horrors being committed against the Iraqi people. Jesse says the people being called "insurgents" and "the enemy" in Iraq are only trying to protect their families against the invaders.
Back to "So You Want To Go To War?" | America's New War or War on Americans? | Issues Index | CDR Home