Home | Issues | Perspective | Audio | Guests | Images | Live Chat | Links | Search | About | Contact
I SUGGEST YOU ALL POST THESE ON YOUR WEBSITES, SAVE THEM TO YOUR HARD DRIVES, AND FORWARD THEM TO EVERYONE!
Terri's "Exit Protocol" (see above 2 pages of a document on how to murder Terri while covering up how badly she was to have suffered). This document was to be used by medical personnel at Hospice Woodside, which is owned by Hospice of the Florida Suncoast, where George Felos, Michael's lead attorney, and right to kill death cult member, as well as depraved lunatic, illegally admitted her to the PRISON FROM HELL masquerading as a hospice!
Melissa / saveterrislife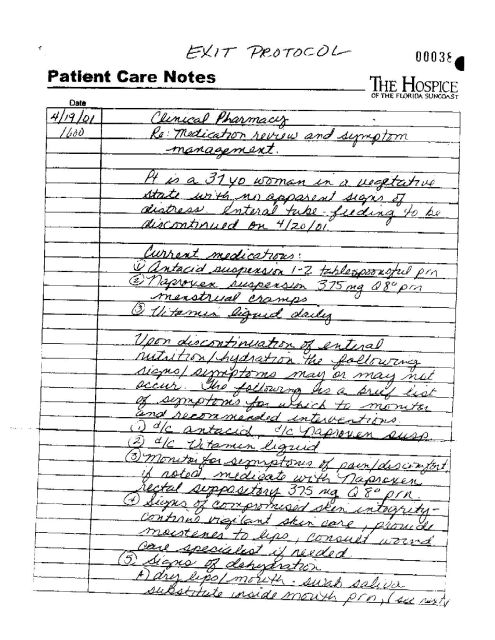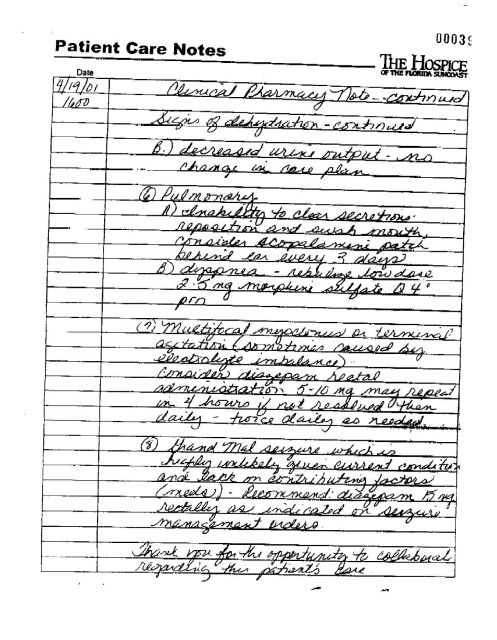 By Susan Brinkmann
CS&T Correspondent

On Oct. 27, 2003, Michael Schiavo, the husband of the cognitively disabled Florida woman, Terri Schindler-Schiavo, appeared on Larry King Live to explain why he was fighting so hard to remove his wife's feeding tube.
His appearance was only days after the Florida legislature intervened to have Terri's feeding tube reinserted for the second time in two years.
Michael Schiavo insisted that he wanted to help his wife "die with dignity." He told King: "It's painless, and probably the most natural way to die. It is a very easy way to die — probably the second best way to die, the first being an aneurysm."
At the same time he was speaking on national television, Terri's medical file contained a document prescribing for her a slow and painful death by starvation and dehydration.
Called an "Exit Protocol," the document contains explicit instructions for how Terri will be treated during the grisly series of events that will occur should the courts decide to withdraw her feeding tube. Terri's fate remains an active issue in both the Florida state and U.S. federal courts.
The nurse who discovered the Exit Protocol, Cheryl Ford, R.N., a Tampa nurse, was reviewing Terri's medical file at the request of the Schindler family when she found the document. For the benefit of our readers, Ford agreed to explain this document in detail. [Editor's note: The protocol, in bold print, is followed by Ford's comments.]

• Patient Care Notes— The Hospice of Florida Suncoast — 4/19/01 — Clinical Pharmacy — Re: Medication review and symptom management. The patient is a 37-year-old woman in a vegetative state with no apparent signs of distress. Enteral tube-feeding to be discontinued on 4/20/01.
"This is a very critical piece of information from a nurse's point of view," Ford said. "We have a patient with no apparent signs of distress, yet enteral tube feeding is going to be discontinued on 4/20/01. This is murder. And it's premeditated murder, because look at the dates — notes were prepared the day before the tube was supposed to be withdrawn."
What would make the death more difficult is that Terri is a healthy woman, weighing approximately 138.5 pounds, which means she will endure longer than other patients who are in the midst of a natural-death process.
"I was an oncology (cancer) nurse," Ford said. "These people are very weak and gaunt. Their bodies are already shutting down, and their tube feedings are withdrawn when their body systems can no longer handle it. But Terri is not a cancer patient — that's what bothers me. She's a healthy young woman."

• Upon discontinuation of enteral feeding the following signs/symptoms may or may not occur. The following is a brief list of symptoms for which to monitor and recommended interventions.
• Monitor symptoms of pain/discomfort. If noted, medicate with Naproxen rectal suppository 375 mg. Q8 prn ["Q8 prn" means eight times a day as needed].
If someone in a persistent vegetative state cannot feel pain, as Michael Schiavo and his attorney, George Felos, have consistently told the world, why do Terri's charts tell nurses how to treat her for pain?
According to Ford, that is because Terri can and will feel pain during this process — and a lot of it.
"Think about what hunger pains are like if you haven't eaten in a while," Ford said. "You start to get that gnawing feeling, almost a burning in your stomach. Most people don't extend themselves into the depths of hunger. They grab a cracker or bread if they're out shopping for a while just to make themselves feel better."
Terri would not have this option, however. "Within several hours, she'll start to feel this kind of hunger pain," Ford said.
Dehydration would only add to the discomfort: "When she starts going into the dehydration stage, her metabolism will start to change. Her electrolytes will get imbalanced. She's going to get uncomfortable and will start to writhe.
"Advance a couple days without food or water. Now her mouth is parched, her lips, her gums, her tongue will start to crack and bleed. The nasal cavities will start to dry, crack and bleed. The stomach will get dry and shrink, causing vomiting and heaving," Ford said.

• Pulmonary
(a) Inability to clear secretions — reposition and swab mouth, consider scopolamine patch behind ear every 3 days.
"When you first go into dehydration, your body will automatically compensate by making saliva. But when she gets into the stage where the stomach shrinks and nausea begins, they're going to stick a patch behind her ear for the nausea. What the patch also does is dehydrate you by taking away this fluid."

(b) Dyspnea — nebulize low dose 2-5 mg. Morphine sulfate Q4 prn [four times a day as needed].
"Dyspnea is when you have difficulty breathing. What they're going to do is use a nebulizer the way you might use for asthmatics — only instead of giving a histamine to help her breathe, they're going to give Terri morphine sulfate, which only suppresses respiration more. In the later phases she'll start gasping for air."
In seven to nine days, as most of her body fluids are lost, her blood pressure will go down and her heart rate will rise. The blood will be shunted to the central part of the body from the periphery of the body, so that usually two to three days prior to death, the hands and feet become extremely cold. They become mottled and have a bluish appearance. The eyes will become so dry the patient can't move them anymore because there will be fluid in them.

• Multifocal myoclonus or terminal agitation [sometimes caused by electrolyte imbalance]. Consider diazepam rectal administration 5-10 mg. May repeat in 4 hours if not resolved then daily — twice daily as needed.
Multifocal myoclonus means seizures taking place in various parts of the body. "Because of the electrolyte imbalance, Terri will begin to have seizures," Ford said. "She'll start to twitch. You don't see this in an oncology patient because they're already dehydrated. Even the elderly, who are going into the natural process of death, their bodies are doing what God created them to do — slow down.
"Our job as health-care professionals at this point is to understand the death process and to oblige the process God has given these people to help them in comfort measures — palliative care — not to enhance death. But Terri's not terminal," Ford said. "What they're doing here is starving a healthy person to death. This is the only reason why she'll go into multifocal myoclonus."

• Grand Mal seizure, which is highly unlikely given current conditions and lack of contributing factors (meds) [medication]. Recommend diazepam 15 mg. rectally as indicated in seizure management orders.
"If she happens to make it into a grand mal seizure, they will give her 15 mg. of valium. … The valium won't make this easier, it will just help to bring her to death faster, because she won't have the ability to fight her way out of it," Ford said. "Her body will not be in good shape at this point. You wouldn't look at her and say she was comfortable. She's been without food and water for a long time. She's pretty much withered, her skin is broken down, her metabolism is broken down, her kidneys haven't received anything. Her body is reacting to the lack of food."
At this point, death is imminent.
During the Oct. 2003 tube withdrawal, Ford saw Terri before the process began.
"They started off by dressing her in wool sweaters and long pants, then wrapped her in a wool blanket — to 'sweat her out' — to make her deyhdrate faster," Ford said. She was horrified, especially because it was only October and it's still hot in Florida in October.
"This is not a painless or dignified way to die," Ford said. "It's against the law to dehydrate and starve to death a prisoner on death row. Why should we allow it to be done to a disabled woman — or anybody?"
The cruelty Ford has seen Terri endure is "not even believable," she said. "In this case, Dr. Kevorkian would be more humane than what they intend to do to Terri."

Contact Susan Brinkmann at fiat723@aol.com or (215) 965-4615.
http://www.cst-phl.com/050113/sixth.html
----- Original Message -----
State Ordered Torture-Murder Rights Groups Mum on Schiavo's Torture
Amnesty International
INTERNATIONAL SECRETARIAT
Web site
http://www.amnesty.org
Telephone
+44-20-74135500
Fax number
+44-20-79561157
Address
1 Easton Street
London
WC1X 0DW, UK
INTERNATIONAL SECRETARIAT
US Office Amnesty International
Web site
http://www.amnestyusa.org
Telephone
+1 212 807 8400
Fax number
+1 212 463 9193\1 212 627 1451
Address
5 Penn Plaza - 14th floor
New York
NY 10001
UNITED STATES OF AMERICA
E-mail
admin-us@aiusa.org
-----------
350 Fifth Avenue, 34th floor
New York, NY 10118-3299 USA
Tel: 1-(212) 290-4700, Fax: 1-(212) 736-1300
hrwnyc@hrw.org
1630 Connecticut Avenue, N.W., Suite 500
Washington, DC 20009 USA
Tel:1-(202) 612-4321, Fax:1-(202) 612-4333
hrwdc@hrw.org
11500 W. Olympic Blvd., Suite 441
Los Angeles, CA 90064 USA
Tel:1-(310) 477-5540, Fax: (310) 477-4622
hrwla@hrw.org
Human Rights Watch
website
http://www.hrw.org/
100 Bush Street, Suite 1812
San Francisco, CA 94104
Tel: 415.362.3250, Fax: 415.362.3255
hrw-sf@hrw.org
2nd Floor, 2-12 Pentonville Road
London N1 9HF, UK
Tel: 44 20 7713 1995, Fax: 44 20 7713 1800
hrwuk@hrw.org
Rue Van Campenhout 15,
1000 Brussels, Belgium
Tel: 32 (2) 732-2009
Fax: 32 (2) 732-0471
hrwatcheu@skynet.be
9 rue Cornavin
1201 Geneva
Tel: +41 22 738 04 81
Fax: +41 22 738 17 91
hrwgva@hrw.org
2300 Yonge Street
Suite 803, Box 2376
Toronto, Ontario M4P-1E4
Canada
toronto@hrw.org
Home | Issues | Perspective | Audio | Guests | Images | Live Chat | Links | Search | About | Contact